You can say 2017 was an eventful year for Swiftype. From starting the year with a product launch of Swiftype Enterprise Search, to helping countless customers migrate from their discontinued Google Site Search solutions, to joining forces with Elastic, the makers of popular open source products such as Elasticsearch, Kibana, Beats, and Logstash. To celebrate the new year, here's a look back at the top blog posts of 2017.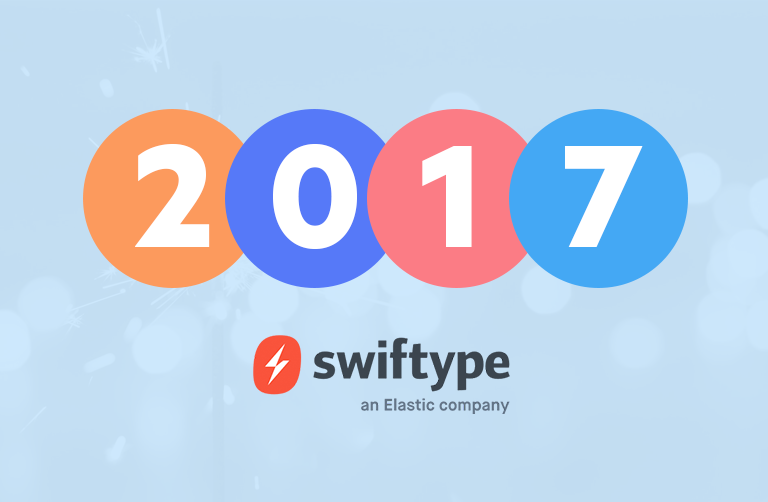 1 — Swiftype Joins Forces with Elastic
"We are thrilled today to announce that Swiftype is joining forces with Elastic, the makers of Elasticsearch. This new alliance will accelerate the development of new features and tools that will make it easier for you to manage and deploy world-class search functionality to your website or organization."
We've built some great search products at Swiftype over the past 5 years, but honestly, we are just getting started. Joining forces with Elastic enables us to partner with the best search experts in the world, so we can continue to innovate and deliver an increasingly diverse suite of powerful search solutions.
2 – Google Site Search is Sunsetting: What to Expect and How to Move On
"By now you've probably heard that Google plans to sunset Google Site Search (GSS) and direct existing customers to use their free replacement, the Google Custom Search Engine (CSE). Unfortunately for these customers, the CSE forces websites to show ads alongside their search results, so the transition isn't as simple as it may seem. As the dominant alternative to GSS for the past 4 years, we at Swiftype are very familiar with the migration process, and we're happy to share some of our advice to those weighing their options."
In early 2017, Google announced it was sunsetting their widely used Site Search product. Since Swiftype Site Search is similar to GSS in its ease of use and out-of-the-box relevancy, many former Google customers turned to us for their website search needs.
"Each month, nearly 900,000 buyers utilize G2 Crowd for unbiased user reviews to assess which products are best for their businesses. Swiftype's reviews on G2 Crowd both reaffirm the value of our product to our customers, and allow us to improve our products to make sure each and every user is satisfied with their site search."
When potential Swiftype customers are evaluating our solution, we really encourage them to do a free trial and spend some time using our product. We believe in our product and consistent positive product reviews from our customers help to reaffirm that belief.
4 — Introducing AI-Powered Enterprise Search
"Today, we're excited to announce a new product that addresses this problem head-on: Swiftype Enterprise Search. By integrating artificial intelligence with our industry leading search technology, Swiftype Enterprise Search is a powerful new way for employees to seamlessly access the data they need, from any device, across the many applications their jobs require."
Earlier this year, we launched Swiftype Enterprise Search  — a modern, AI-powered search solution that enables companies to unify content from all of their apps and data stores. Our enterprise search solution is available on web, desktop and mobile and integrates with your existing workflows so you can find the files you need without breaking your concentration.
5 — 10 Examples of Well-Designed Search UIs
"Are you implementing search and looking for some inspiration? In general, intuitive search UI designs are easy to access, match the look and feel of the overall website, and offer autocomplete results and filters when appropriate. To give you a better idea, here are 10 examples of well-designed search UIs."
At Swiftype, we've helped thousands of businesses to index their content, customize their search engines and then implement search interfaces on their website, either with our JavaScript snippet or our search and autocomplete jQuery libraries. Over the years, we've learned what makes for a good search experience and can confidently tell you that these 10 companies have nailed their search UIs — helping them to get the full value of their search technology and enabling their customers to easily find what they need.
6 — How Asana, Twilio, and SurveyMonkey optimized their customer support centers [Infographic]
"Asana, Twilio, and SurveyMonkey have all invested heavily in creating high-quality support content. To ensure this content is easily accessible, these companies leverage advanced search technology that provides relevant results to their customers and actionable analytics for them."
One big use case for our search technology is in customer support centers. Companies like those listed above utilize Swiftype Search as a flexible portal for their customers to access their support documentation. Since search is a natural way for people to access a wide array of support content, our customers have been very successful in reducing their manual support loads while simultaneously helping their customers to resolve their issues more quickly.
7  — How site search makes higher education websites more accessible
"When a website visitor elects to use the search bar on your website, they have a specific goal in mind, so it's important to provide them with relevant search results. At Swiftype, we specialize in building relevant site search technology and making it incredibly easy to set up on your website. We're fortunate to be able to work with some great universities, and we wanted to highlight their Swiftype success stories."
University websites generally have lots of pages designed to cater to a diverse constituency of prospective students, current students, faculty, staff and parents. Powerful search technology like Swiftype helps higher education institutions to improve the accessibility of their websites so that their site visitors can find the content that's relevant to them.
8 — Great Developers Ship, They Don't Configure Search
"Engineers and developers want to spend more time developing products and websites, not configuring search. It's pretty obvious, and understandable. Developing allows them to be creative, solve problems, and build new things. Search, albeit a critical feature for site visitors, is part of a site's foundation. It should already be there. And it should work, and work well."
As you can imagine, we love to build search products at Swiftype and can tell you that they're difficult to get right. When you're working on a product or website and need search functionality, you may not have the time or resources to allocate towards building search. And that's where we come in with our robust search as a service solution and well-documented developer APIs.
9 — Welcome to the Swiftype office in San Francisco [HQ Photo Tour]
"Welcome to Swiftype Headquarters in San Francisco, California. Founders Matt Riley and Quin Hoxie have created a comfortable and fun office environment with an open floor plan, scattered lounges, and various collaborative areas. Take a look at our office photos below to experience a day in the life of a Swiftype team member."
Take a tour of the Swiftype/Elastic San Francisco Office and get a feel for what it's like to work at a high-growth startup.
10 — Swiftype API overview: Customize your search engine
"The Swiftype API gives you full control over the schema of your search engine and the content that you index. With the Swiftype API endpoints, you are able to index data, execute search queries, and access rich analytics."
One of our main focuses for the Swiftype Site Search product is to make it extremely easy to get your data indexed so you can quickly install a working search bar. Some of our customers prefer to interact with Swiftype through our API or client libraries which enables them to build search to their exact specifications, from the data ingestion process to user interface design.
Test drive Swiftype Site Search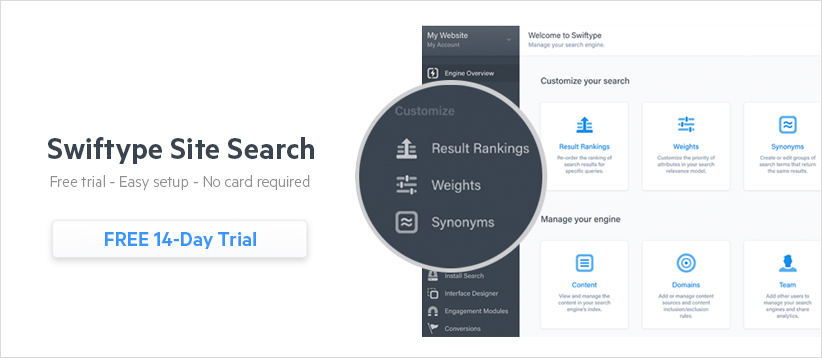 At Swiftype, we provide powerful search as a service complete with customizable search UIs. We make it easy for you to get a search engine up and running by providing a web crawler and API for ingesting data, and an intuitive admin dashboard for managing your search experience. Ready to get started with Swiftype? Sign up for your 14-day free trial here.