I'm Lauren, the Office Manager here at Swiftype. I love our Enterprise Search product because it's useful for so many reasons. I use it consistently throughout my day to find information.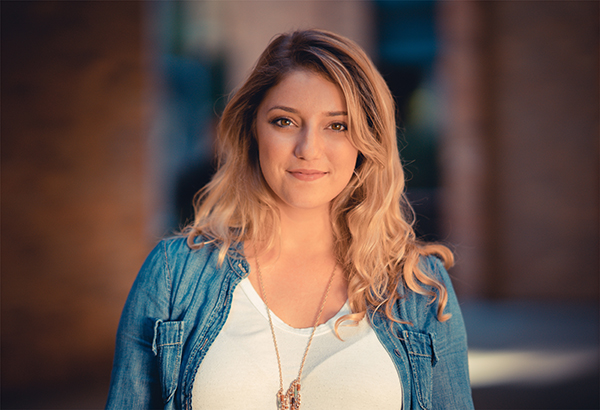 You'd be surprised at how quickly this office goes through food and coffee (…and beer). Though if you follow us on Instagram, maybe you wouldn't find it so surprising. Everyone has different tastes and most people are pretty vocal about their preferences. We don't have a formal order request system—people usually just Slack or email me their suggestions and comments. And believe me, they have a lot of opinions. The Enterprise Search web app allows me to quickly reference the requests I've received throughout the week before I place large orders for the office, without having to scroll through channels and individual messages.
We recently tapped our kegerator and as an office rule, the person who finishes it ceremoniously picks the next beer to be ordered. But this time around, the selection ended up being a pretty unpopular option (Tecate). The office was about to riot, so I created a poll to let the people decide. After a few hours, and what I'm sure was some voter intimidation, everyone finally agreed on a new option: Racer 5.
When I placed the order, I had to be absolutely certain that Racer 5 was the final winner over Tecate, so I just searched for "Racer 5" in my Enterprise Search web app and all of our Slack and Gmail conversations came up instantly. I was even able to see the poll I created in Slack without having to hunt through our company-wide general channel to find it. Racer 5 beat Tecate 11-9. We now have a keg full of Racer 5 for the win!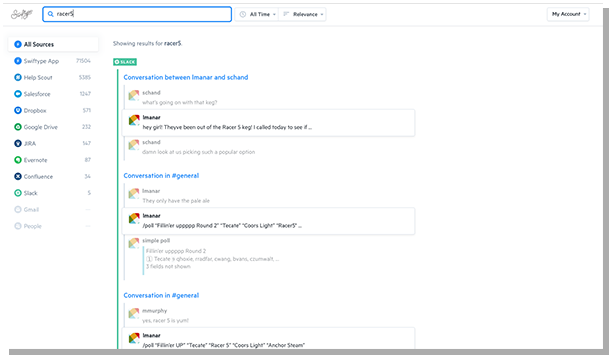 On a less alcoholic note, we also get lunch catered every Monday through Thursday by Zesty, and I always let people know what's on the menu in advance. I put each week's options into a spreadsheet and a surprising number of people access it daily to stay up-to-date. (I'm 90% sure the most-searched term on our Enterprise Search macOS app internally is actually "Zesty".)
There are quite a few other processes I'm responsible for in the office, but one of the most important, is onboarding our new employees. We're constantly looking for new talent, and have been fortunate to find some great people and continue to grow at a steady rate. As a result, I've had several new employees to onboard since I joined the team. Because we deal with some very sensitive and secure information, our onboarding procedures also have to follow the requirements outlined by our Security Officer. Our Enterprise Search product helps me uncomplicate this process a lot. We have a shared Confluence document outlining our onboarding processes, but they refer to a number of Jira tickets we have set up, as well as Google Docs, Dropbox files, Slack channels, and more. Not all of the docs are included in the Confluence post, so without Enterprise Search I would still have to do a fair amount of searching through other applications to find the right files. Fortunately the Browser Extension shows me all related onboarding content without me having to hunt through each of our apps individually.
The process looks something like this:
Email our Security Officer to give him a heads up that we're adding someone new to our database.

Add the new person to our HR database sheet in Google Docs.

Create a new Jira ticket for the new user. Usually I can do this from a template we already have, which is already populated in the Swiftype Browser Extension, so all I have to do is click on the result to go directly to the Jira ticket template.

Conduct a background check—these are housed in a repository that very few people actually have access to. But Enterprise Search uses my credentials and knows exactly which folders I can access and which I can't so all the background check documents are populated in my Browser Extension.

Set up corporate accounts for the new employee—like Gmail and Slack. Once I set them up in our Google Accounts Directory, Enterprise Search can use that information to populate their contact details, and read them as a user in our organization instead of a lead.

Print out the employee handbook for them. This lives in Dropbox, at the end of a tree of folders. Instead of having to go into Dropbox and click through every single folder, I can run a quick search for "employee handbook" in the MacOS app and find it instantly.
Once all of this is complete, I can hand off the onboarding process to Finance, Tech Ops, and the new employee's hiring manager, knowing they have everything they need for a smooth first day.
My responsibilities at Swiftype are diverse, span multiple teams, and often need to be completed as quickly as possible. Using Swiftype Enterprise Search everyday helps me stay on top of all of my to-dos by giving me immediate access to all the information and tools I need to get the job done. Instead of wasting time searching for the right documents in dozens of different apps, I can find everything instantly!
Try it for yourself – you can sign up for a free trial here!