David Walsh is a Senior Software Engineer and evangelist for Mozilla. He also runs a wildly popular eponymous blog for web developers, where he writes about topics ranging from how to create GitHub pull requests to reviews of web hosting services. In a recent post, David detailed his evaluation and implementation of a third-party website search alternative, which you can read here. During his evaluation, however, David discovered the vendor's enterprise search solution and shared his thoughts.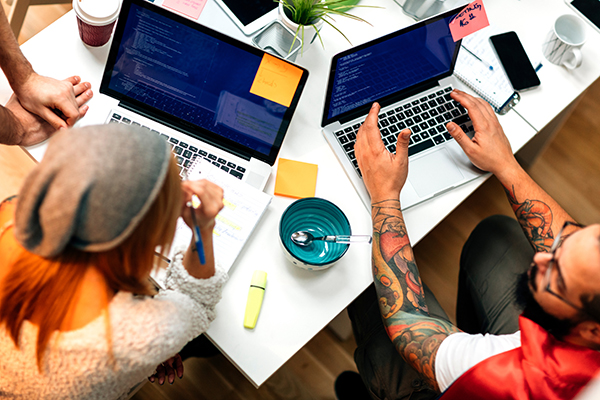 The Cloud Means (Tricky) Business
The explosion of cloud-based apps and storage solutions is nothing new. Everyone, from retailers to media companies and governments to healthcare organizations, have made the move to the cloud. It's become so prevalent that it's no longer a trend, it's just how things are now done.
However, what the cloud has done, which David so eloquently stated in his quote above, is make it incredibly easy to save content without ever thinking about it's actual location.
Yeah, it gets tricky fast. In fact, ZDNet wrote that "the average medium- to large-sized business is actually using between 300 and 400 cloud apps." That's incredible, and incredibly daunting if you're trying to find something — or if you're a developer.
Where did I see that thing about that stuff?
Enterprise search is a fairly recent need, and the prevalence of cloud-based apps makes it even more of a strategic corporate imperative. Enterprise developers are ultimately on the hook, since search is the key to helping every employee work smarter and faster.
In David's post, he points the finger at the proliferation of these specialized web services for making enterprise search such a bear. Just your marketing team alone might be using Slack, Dropbox, Marketo, Salesforce, and Zendesk. And people today are more likely to just assume search will help them find what they're seeking. Alexa, where's the sales development plan for western Pennsylvania?
If only it were that easy!
So, yes, as you're now considering all the apps your company uses (and that you're aware of!), you're likely echoing David's words: "Where the hell do we find anything?"
Make Search Your Enterprise Productivity Accelerator
As with most technical tasks, implementing enterprise search likely falls to departmental teams initially. Sales Operations or Marketing Operations might take the lead for their teams, but then IT should ultimately get involved. It is enterprise search, after all. And, it is a shortcut to helping employees work faster and smarter.
For developers, working faster and smarter means removing the burden of enterprise search foundational tasks, like API configurations. That's where a good enterprise search solution saves huge amounts of time and budget compared with trying to develop a search solution on your own.
Packaged enterprise search solutions let you choose from dozens of prebuilt connectors to speed and simplify a comprehensive enterprise search. If a pre-built connector isn't available, APIs should enable you to create a secure and unique endpoint in just a few clicks. It should be that easy. Enterprise search vendors put their R&D dollars and efforts into making search easier to implement, configure, and administer, and you reap the rewards!

As you look for a vendor, there are two key productivity outcomes of a good enterprise search solution. Your first goal is to help employees quickly find what they need, which increases productivity. Your second goal is giving developers get more control and more productivity for themselves by choosing a search that's both easier to configure and provides better results for employees.
Solve for Search, then Move On
IT and operations developers struggle to appease the demands of a wide range of internal customers, from sales, service, content, and marketing teams trying to drive revenue and please customers to executives, finance, auditors, and others trying to run the business. But the nirvana of enterprise search hits smack into the reality of integrating dozens and dozens of local and cloud repositories.
While you can build your own custom enterprise search, it's never going to be as good as a commercial search solution designed to work out-of-the-box with hundreds of existing cloud and SaaS solutions.
"Instead of rolling your own search," as David put it in his blog post, take a look at some of the available alternatives. You'll be pleasantly surprised at what you find, and you might be shocked that the best solution for you doesn't come from one of the giants who are synonymous with "search."
Want to learn more about Swiftype Enterprise Search? Watch this video for a quick overview or connect with our team if you'd like to chat live.