Hopefully you are well aware of this by now, but Google Site Search is shutting down on April 1. In case you're more of a visual person, here's a screenshot from the GSS website: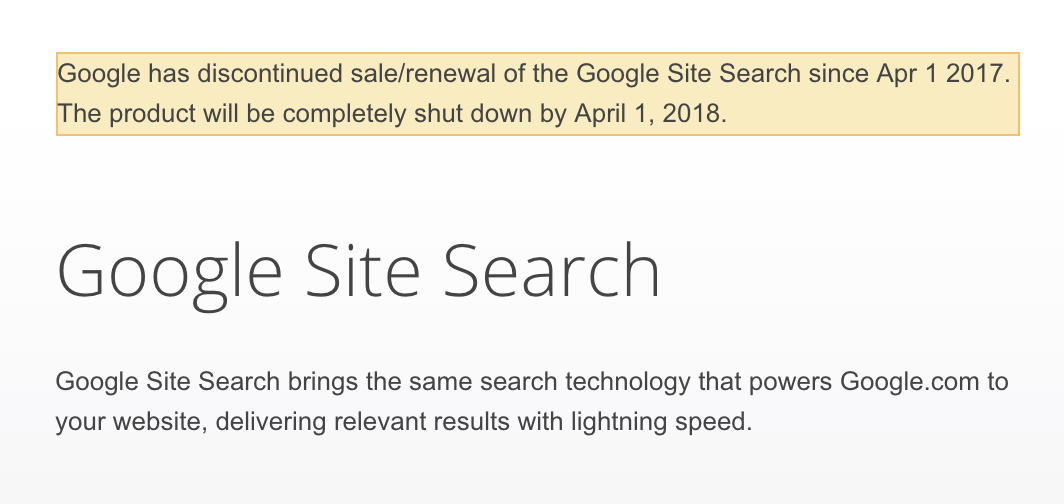 If you visit the Google website, you'll also notice a banner about Google Search Appliance. In the banner, "Google is no longer selling new licenses for the Google Search Appliance (GSA)".
If you're using GSA for site search, we can help successfully migrate to a new (easier to manage) solution. More info on that here.
Ode to GSS
GSS has been the trusted site search provider for thousands of companies since it was introduced by Google in 2008. Google Site Search provided businesses with a code-free solution for indexing their website's content and making it searchable. Search relevancy can be difficult to get right but GSS was powered by the core Google search algorithm and well, that thing works pretty well.
When companies installed GSS on their website, they could be fairly confident that their site search would return relevant and reliable results. Additionally, since Google handles about 63,000 searches per second for its internet-wide search engine it was safe to assume they could handle your website's search throughput.
Google's ad-supported replacement for GSS
Google Custom Search is an ad-supported site search solution that Google will continue to offer. What's nice about Custom Search is that it's free but that does come at the cost of showing ads in your search results. This unacceptable for most commercial use cases.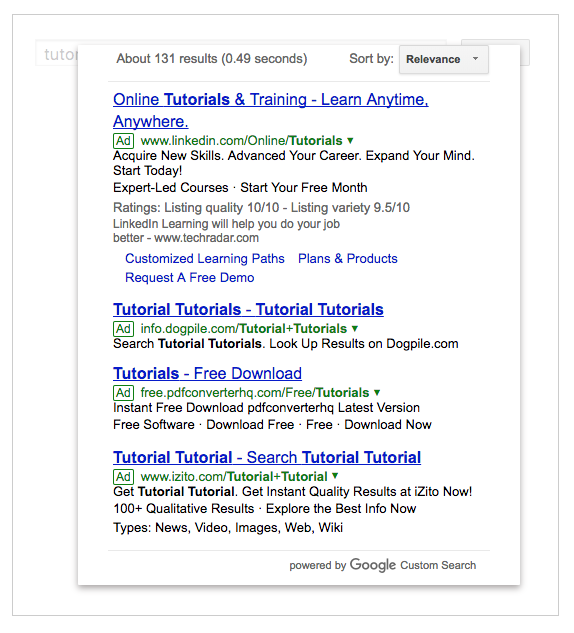 Additionally, Custom Search engines are subject to query limits and new pages or content updates can take awhile to be indexed. Here's a deep dive into the differences between Custom Search and Swiftype and why paying for site search is worth it.
Considerations for Implementing an Adequate GSS Replacement
Not all site search solutions are created equal
Although one site search provider can appear similar to another at first glance, search technology is difficult to get right and vendors can have significant differences in the stability and performance of their underlying search architecture. When considering replacements for your GSS, it's important to think about a search provider's track record including their experience handling large scale implementations (millions of documents and millions of queries per month).
For example, here at Swiftype we support over 10K production search engines and serve well over 5 billion queries a month. Our search product is built on Elasticsearch, the popular open source project (over 115 million downloads worldwide), and that infrastructure enables us to scale seamlessly, provide state of the art relevancy, robust analytics and other important features.
Evaluating replacement solutions
Here are 5 key considerations for implementing an adequate GSS replacement.
Migrating to Swiftype Site Search from Google Site Search
Swiftype matches GSS's ease of use and implementation
Swiftype Site Search matches GSS's ease of implementation and use but comes with additional features and a modern admin dashboard. Swiftype enables you to index your content via web crawler (very similar process to GSS) or API.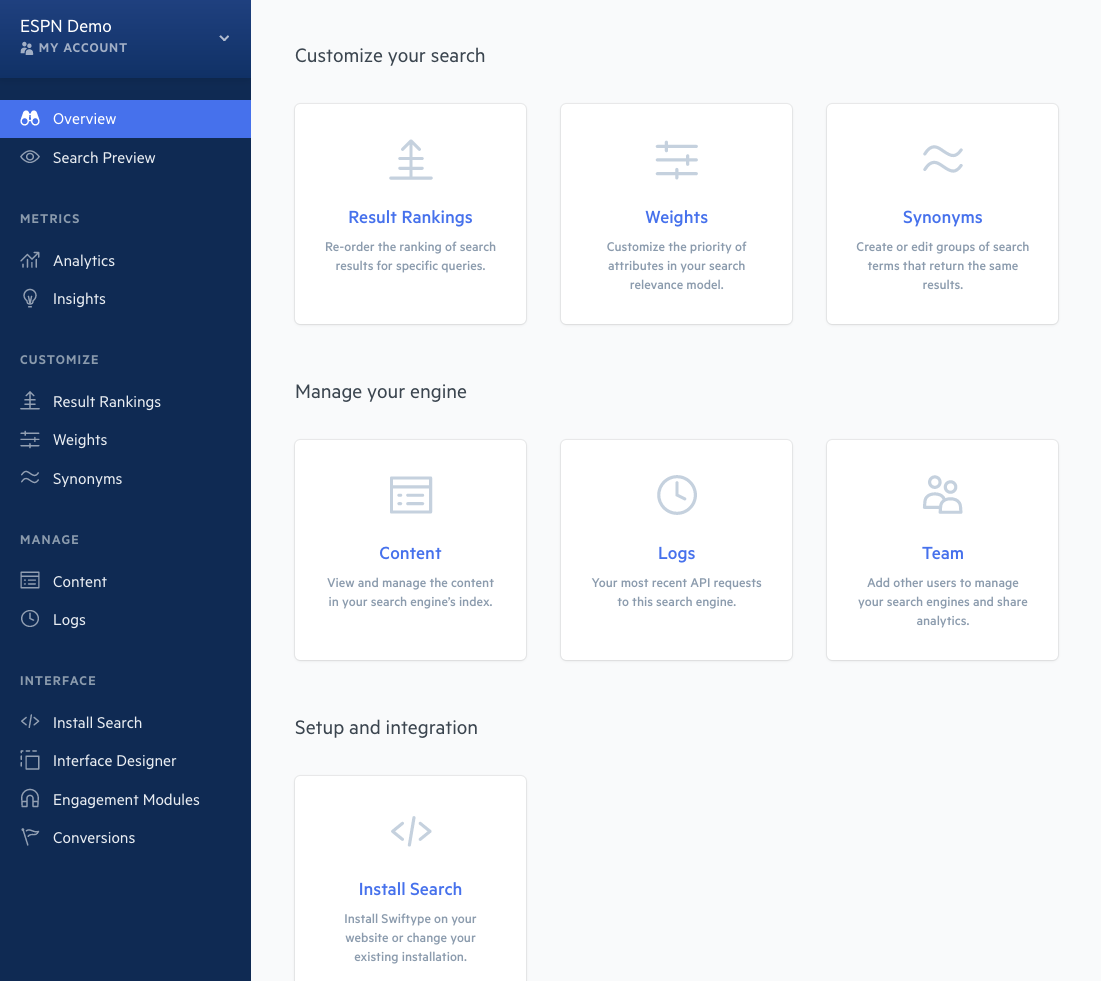 Swiftype Site Search matches GSS's ease of implementation and use but comes with additional features and a modern admin dashboard.
Customize your search results
By default, our search algorithm will rank your results intelligently, but we also provide you the tooling to fully customize your search results both on an individual query level as well globally across all queries. Once you index your content, you can use the intuitive admin dashboard to customize relevancy by applying weights via slider, reposition results through a drag and drop interface and view search analytics.
Here's a quick look at our weights feature: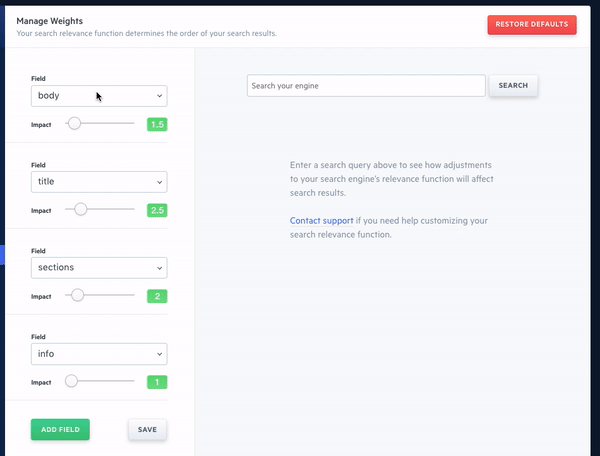 And here's result repositioning: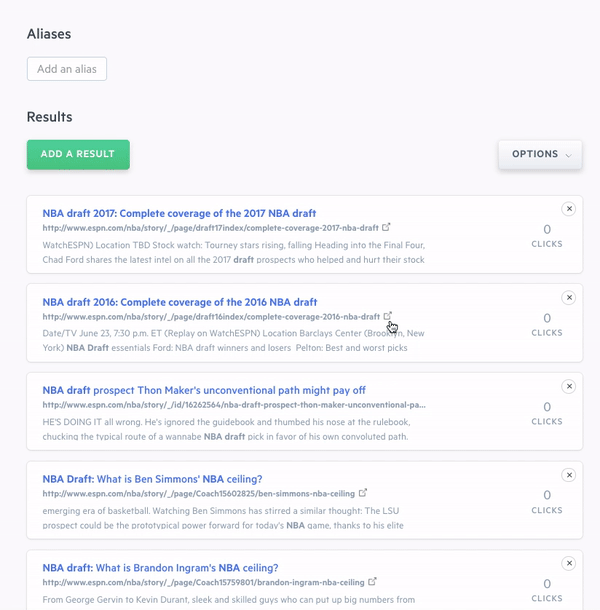 Analytics: Find trends in search data
Search analytics are collected automatically and they provide you valuable insight about your customer's interests and intentions. Our analytics dashboard displays popular queries returning no results which helps you to fill gaps in your content and can inform your product roadmap (or inventory for ecommerce).
Developer friendly
Swiftype is also developer friendly. Although you can install our site search on your website without writing a line of code, we support a well-documented API as well as client libraries.
Adding a search bar to your site
One it comes time to add a search interface to your website, you can do so using the a JavaScript snippet provided in the Swiftype dashboard or our search and autocomplete jQuery libraries which support highly-customized implementations with features like faceting. Here's in-depth information on building and implementing a Swiftype search UI.
Site Search Migration in 4 Simple Steps
We're to help plan and execute a successful migration
Migrating from GSS to Swiftype can be accomplished in 4 simple steps. Here's a blog post that outlines the process.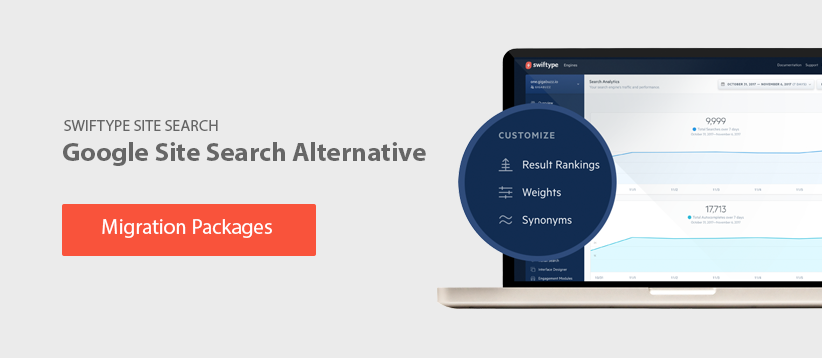 If you're a GSS customer and you're ready to get started with Swiftype, you can fill out this form, and we will be in touch shortly. Alternatively, you can shoot us an email at success at swiftype.com.
Video Guide
Let our search specialist walk you through migrating from GSS to Swiftype in the step-by-step video guide.