Free Site Search
When many people think about search, they think about Google, so it's only natural that Google's Custom Search Engine (CSE) solution is a popular choice for site search installations. Additionally, Google Custom Search is a free product (supported by ads), so it's an attractive solution for smaller websites and non-commercial use cases.
Replacing Google Site Search
After Google announced that they were sunsetting their paid site search product, Google Site Search (GSS), last year, many businesses began looking for replacements. CSE is an option for these companies, but it has some significant differences from GSS, and it doesn't provide the robust functionality and flexibility of paid hosted search solutions. Furthermore, companies that implement Custom Search are at risk of showing their competitors ads directly on their website and will have to include Google branding alongside their search installation.
Comparing Google Custom Search Engine and Swiftype
To understand the differences between CSE and Swiftype, let's dig into some of the features of both solutions. As you evaluate a paid search solution for your business, consider how you can benefit from advanced functionality such as the ability the fine-tune your search relevancy function without writing any code.
1 — Indexing your data
Web crawlers and structured data
Both Swiftype and Google have powerful web crawlers for indexing your website's data. Additionally, both products enable you to provide structured data to your crawler and exclude/include portions of your website so that your search engine only searches across relevant content.
Confusing Google's crawler
One key consideration for Custom Search is that if you incorrectly provide structured data, it can affect how your website is indexed for regular Google Search since Google will also be crawling your website to rank it in its Internet-wide search engine. With a paid site search solution like Swiftype, this is much less of a concern. Swiftype enables you to use meta tags and body-embedded data attribute tags to set exactly what content is extracted and indexed from your pages.
Indexing API option
Swiftype also gives you the option of indexing your data via an API. Utilizing the API gives you full control over how your data is indexed and allows you to index content from sources other than web pages like databases. You can learn more about the Swiftype API here.
2 — Search interface design
Results display
Both Swiftype and CSE enable you to customize the look and feel of your search bar and results through your admin dashboard. More specifically, both solutions enable you customize colors and determine whether you want to show search results in an overlay, on another page, or on the page where the search query is executed.
Granular result customization through a dashboard
Swiftype enables you to determine how many search results are shown and easily specify which data fields are displayed in your results.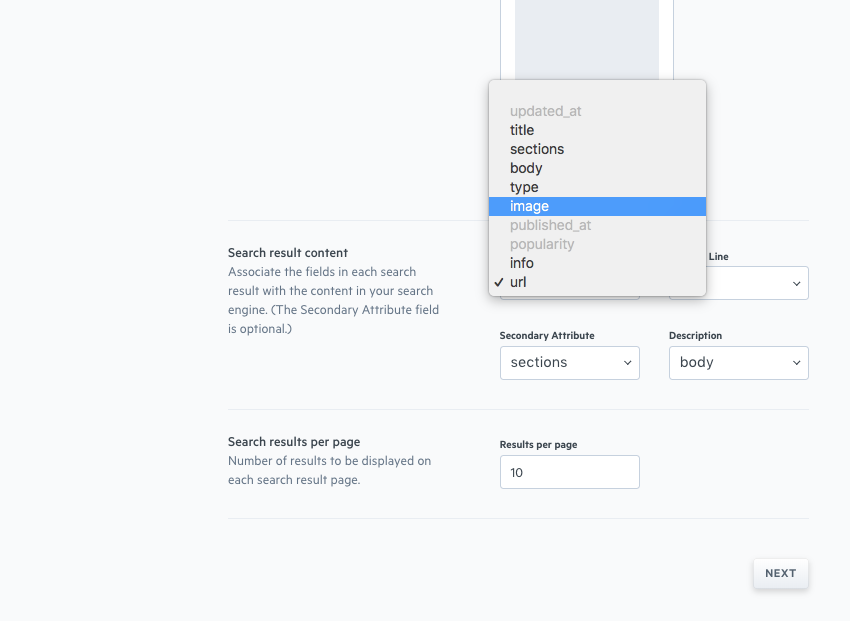 Support for building your own search interface
Depending on your business and site search use case, you may want to implement a custom search interface with features like filtering and faceting. Swiftype provides their search and autocomplete jQuery libraries so you can fully customize the appearance of search on your site.
3 — Search relevancy customization
Drag-and-drop Result Rankings
Both Swiftype and CSE allow you to customize search results by pinning content to the results for certain queries but Swiftype enables you to do it through a drag-and-drop interface (a patented design). This interface, the Swiftype Result Rankings feature, enables you to easily customize the complete list of a search results for a given query and makes it easy to add or delete results from the list.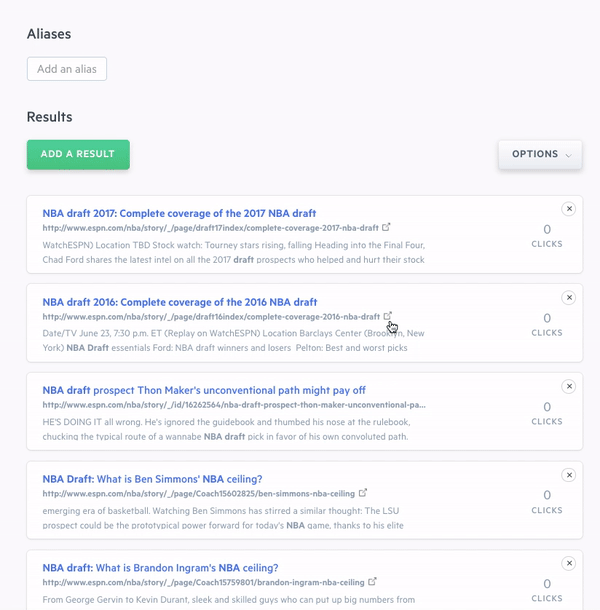 Global relevancy customization with Weights
Swiftype enables you to fine-tune your search relevancy algorithm with sliders. With the Swiftype Weights feature, you can boost the importance of certain data fields and then immediately test your changes inside of the admin dashboard. If you like the changes, you can click a button to make your new search algorithm go live. Alternatively, you can click a button to restore default weights.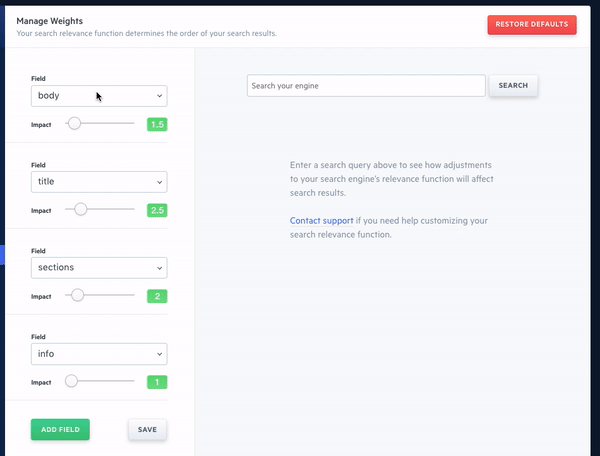 4 — Analytics
Basic analytics dashboard
Site search is an excellent source of actionable data that helps you to better understand your customers' interests and intentions. CSE has a very basic analytics dashboard that provides you with some metrics like volume of queries and popular queries. For more in-depth analytics, "you can get enhanced reporting through Google Analytics site search reporting" according to a note in the Google Custom Search dashboard. 
Leveraging search analytics
Swiftype's robust analytics dashboard provides charts for viewing total search volume for your desired date range and makes it easy for you to export your data. Swiftype's dashboard also shows you most popular queries, popular queries that are returning no results, and CTRs on search results. Swiftype customers often use their site search data to drive their content strategy and make decision about product inventory.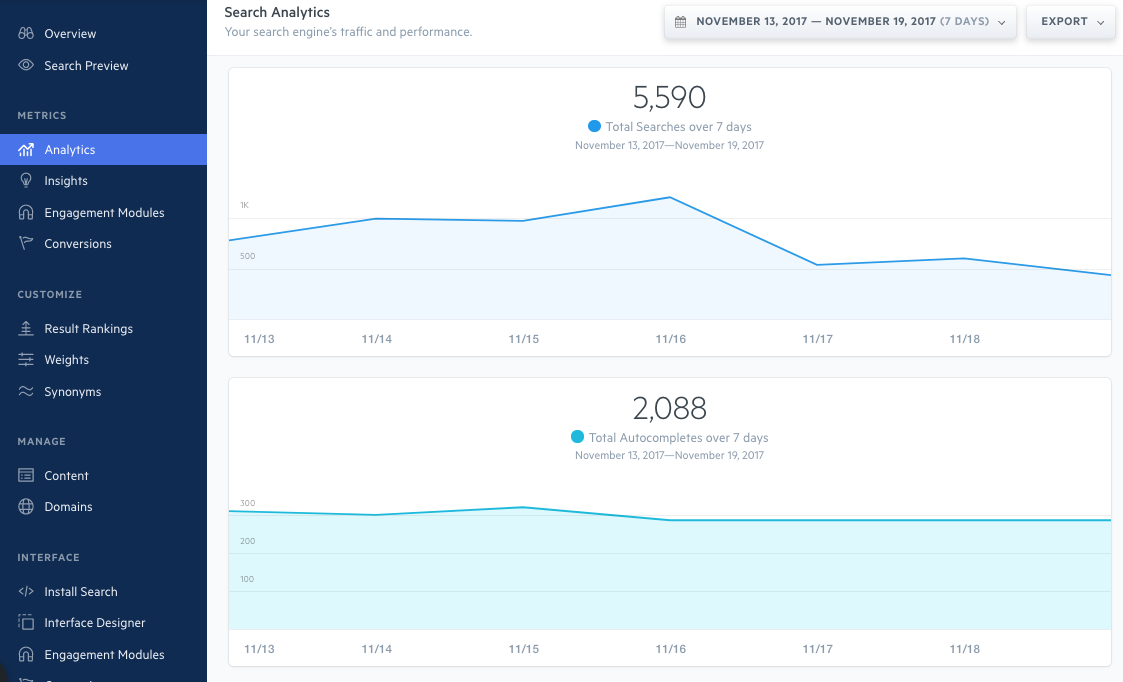 Swiftype + Google Analytics
If you'd like, you can also connect Swiftype to your Google Analytics account so that your site search data is available in that platform. You can learn more about connecting Swiftype with Google Analytics here.
5 — Ads
Google search on your website, ads and all
As mentioned earlier, Google Custom Search is an ad-supported product. If you haven't used a CSE installation, Google displays ads on top of the organic search results just like it does for its Internet-wide search engine.
Questionable user experience and competitors' ads
Ads above your search results can make for a poor user experience, because your website visitors may not see results from your actual website without scrolling down (see image below for example). Unfortunately, your website visitor might not scroll down at all and instead click on one of the ads…which could be a competitor's ad.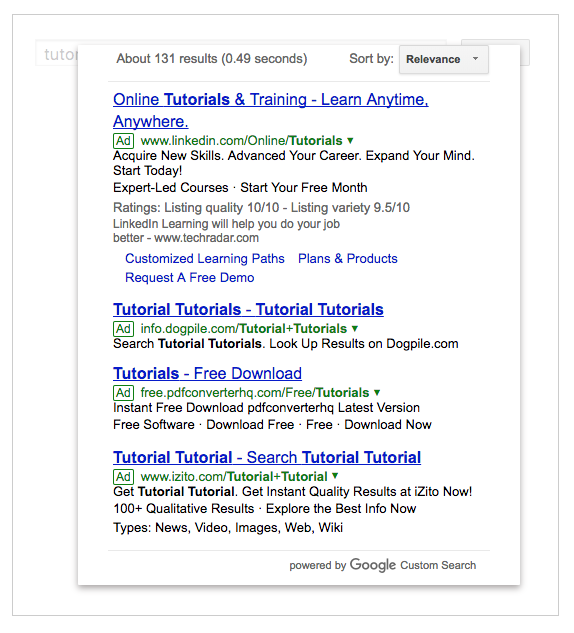 6 — Support
Free means no support
Sometimes things go wrong when you're implementing a new solution, and it's nice to have support on hand when they do. Since Google Custom Search is free, it does not have support so you're own your own if something goes wrong.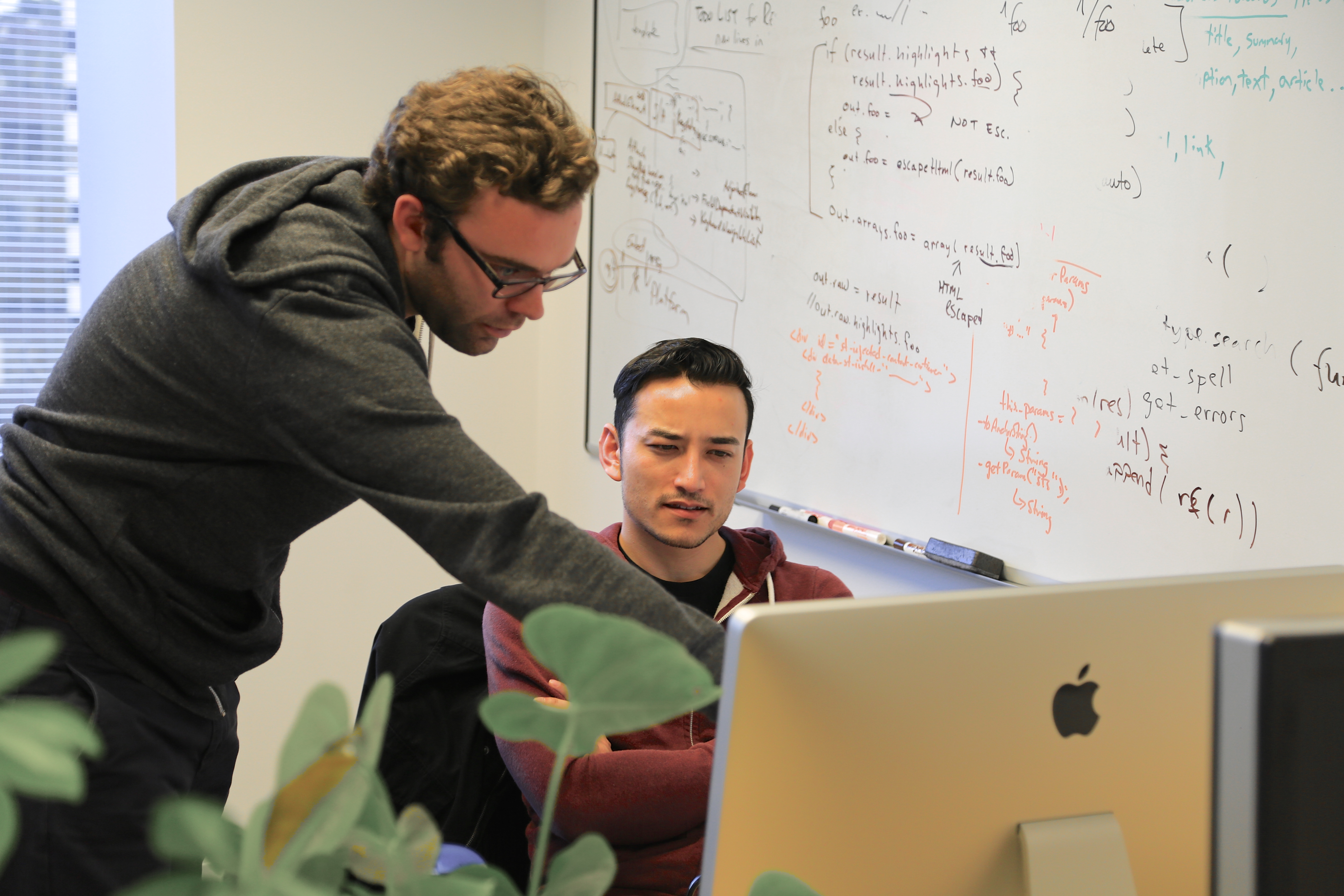 Support and consultation to ensure success
With Swiftype, you have access to our support engineers through email and if you have an enterprise plan, you get access to phone support. Additionally, Swiftype and our partners can help you to get up and running with our site search solution — ensuring that you and your customers capture the full value of our product.
Getting started with Swiftype
Get a feel for Swiftype with a free trial
We love telling people about Swiftype's reliable indexing, relevancy customization features, and robust analytics but don't take our word for it. Try out Swiftype with our 14-day free trial.
Get in touch
Prefer to speak with a search specialist directly? Fill out this form and we'll be in touch!