It's undeniable that colleges and universities face unique web and tech issues. A university's website is an important intersection for its varied audiences who are all looking for different information. These diverse audiences create diverse challenges. Why not learn from and collaborate with other brilliant higher education web professionals to solve these problems?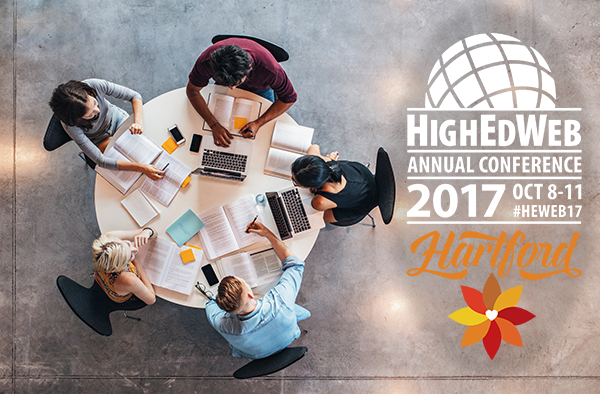 Why HighEdWeb?
Join Swiftype at the annual HighEdWeb Conference in Hartford, CT this October. HighEdWeb is the premiere event created by and for higher education web professionals. Whether you're a web developer, marketer, programmer, web manager, designer or writer you'll be able to take advantage of this event's unmatched professional development.
You'll have endless opportunities to learn, share, and expand your professional network over a four-day period. Reconnect and meet new peers at the kick-off Welcome Reception at City Steam on Sunday 10/8. Jump start your conference by selecting from 100+ high-quality sessions, presentations, and keynotes featuring internationally-recognized speakers. Explore the expo hall and learn about the latest tech available to solve web challenges currently facing the higher ed community. And finally pop into the Big Social Event on the final conference evening at the Connecticut Science Center where you'll be able to explore four floors containing 150 hands-on exhibits.
The HighEdWeb Conference is hosted by the Higher Education Web Professionals Association: an international organization of web professionals working at varied institutions of higher education. While their highly-active community is year-round, everything annually culminates at the HighEdWeb Conference.
Platinum's have more fun
Swiftype is excited to be a Platinum sponsor at HighEdWeb this year. We know that delivering content efficiently to your website audience can be complicated when your visitors range dramatically from prospective to current students, faculty, parents, alumni and donors. We're looking forward to sharing why web developers at institutions such as NYU, Azusa Pacific, and St. Mary's University realized that website search is key to making the right information accessible to these audiences and why they chose Swiftype Site Search to gain more powerful, customizable, and accurate search.
Register today and join HighEdWeb at the Connecticut Convention Center. But if you want to get ahead of the curve, learn more about Swiftype Site Search now.