With emphasis on worker efficiency at an all-time high, more businesses are turning to Atlassian, a leading provider of software development and collaboration tools. Two popular Atlassian products, Jira and Confluence, help teams work together, build software, and better serve customers. With the continuous expansion of Swiftype's Connector Framework, we are thrilled to announce our new native connectors to Jira and Confluence.
Expansion is the Key to Success for Enterprise Search
Jira and Confluence are products that are widely used and trusted by millions, so, given the incredible amount of content that is created and stored in these applications, they were obvious choices. The formal and supported connections between Jira, Confluence and the Enterprise Search Platform will make it all the more seamless to find content across multiple applications at once. By bringing Atlassian-supported work into the Swiftype platform, users can quickly discover helpful content to build into projects, tasks, documents and more. Swiftype's commitment to meeting people where they work continues with these additions, allowing users to search across more data sources without having to leave the application they're already working in.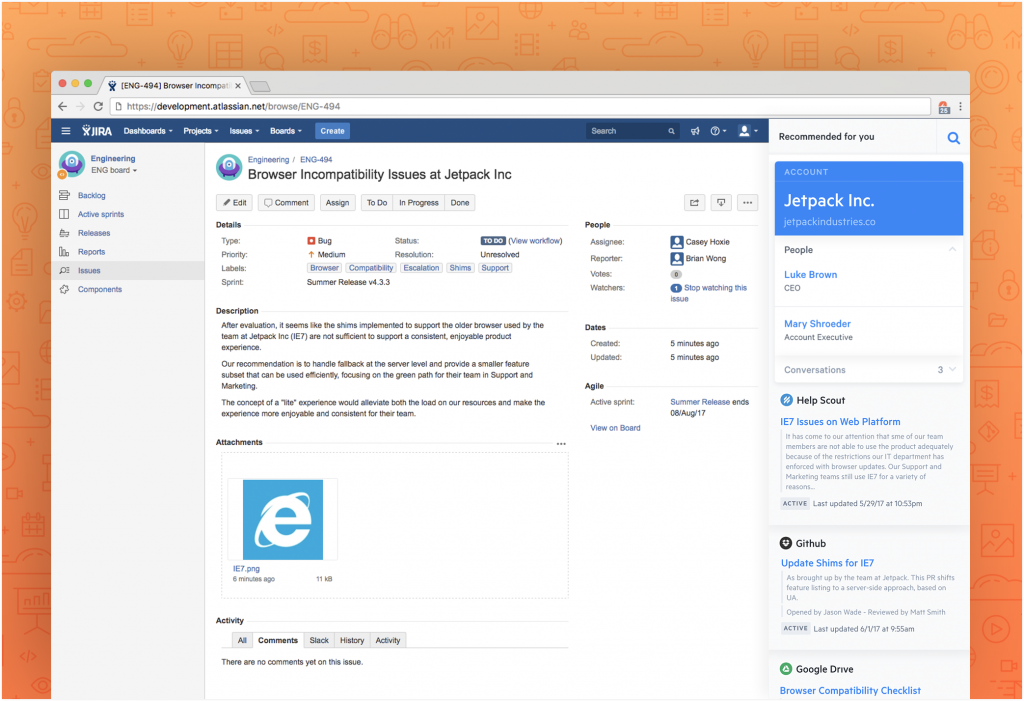 What You Can Expect from Swiftype for Jira and Confluence:
Streamlined project management.

Most teams use Jira for project management and Confluence for documentation, but they also use a plethora of complementary apps to get their work done, like Github for code collaboration and management, Dropbox to access UI files from design teams, and Help Scout or another customer support management system, to name a few. Swiftype's integrated Enterprise Search solution helps teams stay agile by enabling effortless incorporation of design thinking, agile development, and release management into their process.

Instant, relevant content for all your projects.

Imagine you are assigned a pull request in Github, but you don't have much context for why those changes need to be made. Instead of having to hunt around for similar pull requests in Github, related tasks in Jira or more relevant information in Confluence, you can use the Enterprise Search Chrome extension to immediately see related Jira tickets, documentation in Confluence, sprint planning documents in Google Drive, account records of impacted customers in Salesforce, and any other related content from your different sources.

Global collaboration.

 Atlassian takes into account the global nature of project development and encourages flexible cross-organization planning. Collaboration can take place across time zones, but also across tools, like Slack. Swiftype Enterprise Search also offers a federated

integration with Slack

, which allows users to easily pull up any file from any connected content repository, complete with smart filters and AI-based natural language processing, and share it directly with channels or individuals.
Get Started!
We're excited to welcome Atlassian tools 'to the family' of our Enterprise Search connectors. It's simple to set up. With just a few clicks, your entire library of cloud content is accessible right alongside your Jira and Confluence workflows. Visit us in the Atlassian Marketplace to learn more and sign up for a free trial.