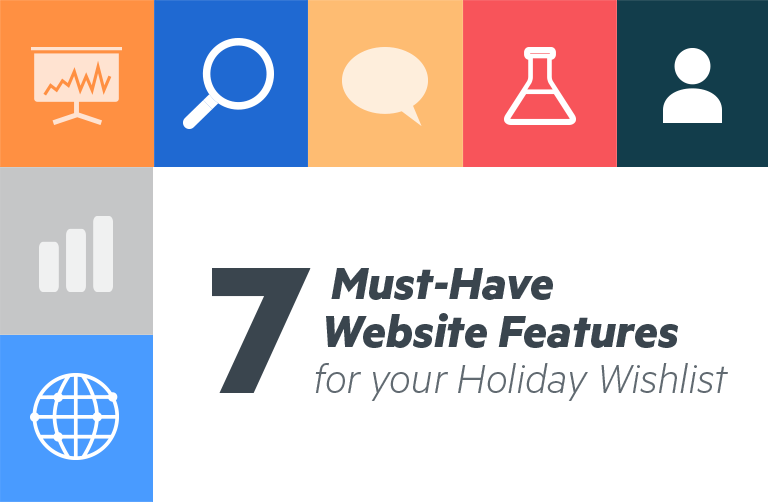 Welcome to the Holiday Website Checklist! The holiday season is a great time of year to relax, celebrate, and reflect on the ups and downs of the past year. While we don't want you spending too much time working this holiday, we did want to give you a helpful list for reviewing the technology you use on your website for things like security, analytics, and customer communication. We've created a high-level infographic as well as a detailed list which you can find below. After reviewing this list, we hope you can move into the new year with some ideas for creating an even stronger web presence.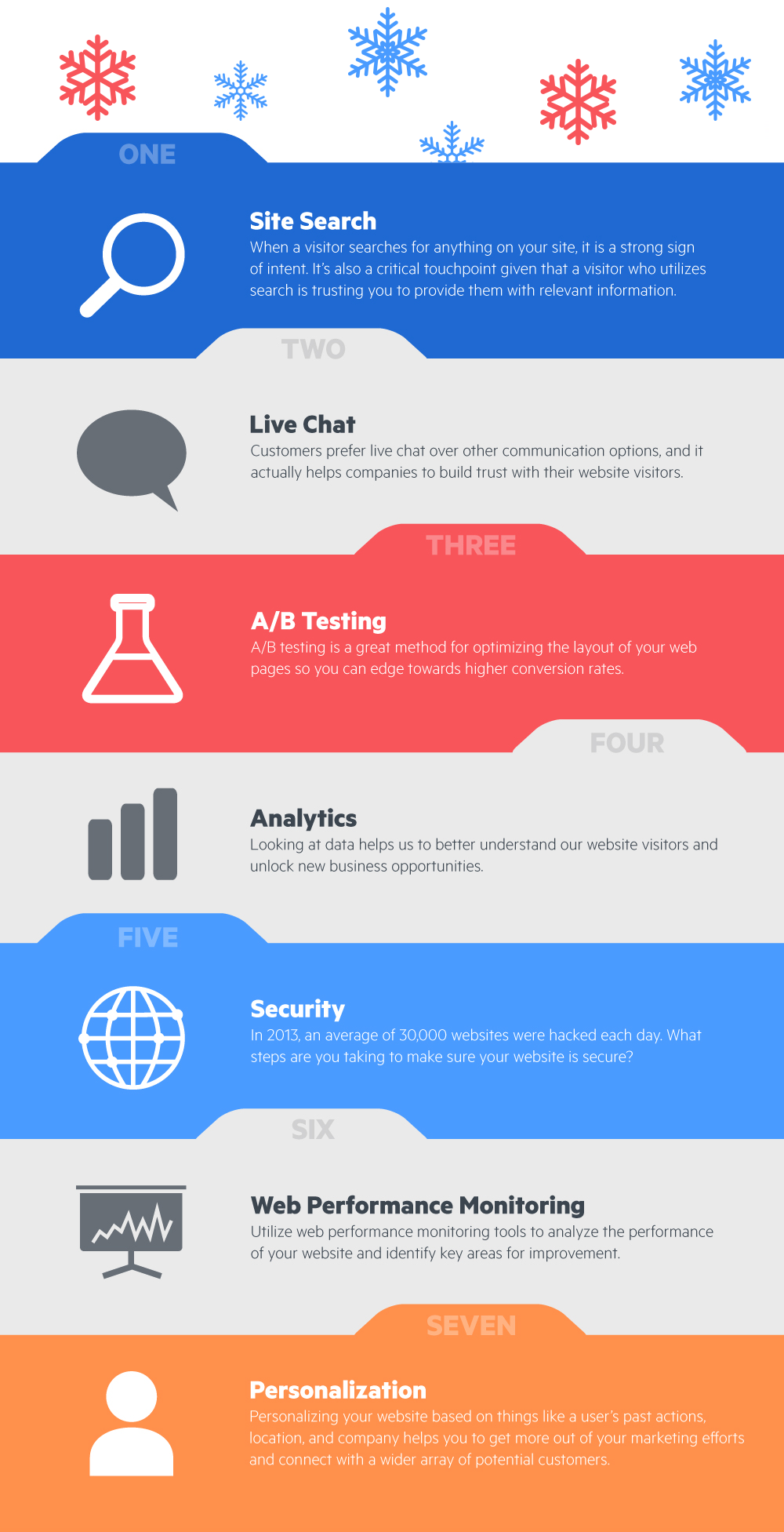 1 — Site Search
When a visitor searches for anything on your website, it is a strong sign of intent. It's also a critical touchpoint given that a visitor who utilizes search is trusting you to provide them with relevant information. While we may be biased, site search is at the top of our holiday wishlist because it's an often underrated website feature that helps you to better engage your visitors. In addition, it's a real-time source of actionable data that informs you of what your visitors are interested in and will help you to better recognize trends in their behavior. Looking to add site search or level up your existing installation? You can sign up for a 14-day free trial of Swiftype Site Search here or learn more here.
2 — Live Chat
Customers prefer live chat over other communication options (Source: Forbes), and it actually helps companies to build trust with their website visitors. It makes sense if you think about it as chat is a natural means of communication and it makes people feel valued that your company is there to speak with them. Over the past few years, live chat has exploded in popularity as the tools have improved and companies have realized the financial benefits of implementing chat. If you're looking for a live chat tool, check out Olark, Intercom, or Drift.
3 — A/B testing
A/B testing is a great method for optimizing the layout of your web pages so you can edge towards higher conversion rates. Tools like Optimizely and Google Optimize provide a robust framework for rapidly conducting tests so you can iterate on your website design. If you're new to A/B testing and not sure where to start, check out this blog post from Kissmetrics.
4 — Analytics
Looking at data helps us to better understand our website visitors and unlock new business opportunities. You're likely already using Google Analytics or a similar tool to track things like social referrals, traffic, and conversions. If you're looking to utilize some of the more advanced features of Google Analytics, check out this course from Google. Heatmap tools like Hotjar are another great source of insight — helping you to understand what elements of your website are working and what needs to be changed.
5 — Security
In 2013, an average of 30,000 websites were hacked each day (Source: Forbes). What steps can you take to make sure your website is secure? If you've built your own website, you'll want to use a tool like Gemnasium to monitor your website for security vulnerabilities (you don't want to be the next Equifax). Additionally, if you're not currently using HTTPS across your website, it's probably a good idea to switch over. This article from Creative Bloq has some great tips about how to handle things like passwords, SQL injections, and file uploads as well as a list of helpful website security tools.
6 — Web performance monitoring
Google searches the entire web in a fraction of a second, so it makes sense that people expect your website to be fast. You can use tools like Pingdom or Uptrends to analyze the performance of your website and identify key areas for improvement. Additionally, Google has a free tool called PageSpeed which analyzes your site's performance and offer recommendations for improving it. Overall, improving your site's performance is an easy win as it's relatively simple to identify problem areas and make the necessary changes.
7 — Personalization
Why serve up a generic web page when you can tailor your content on a visitor-by-visitor basis? Personalizing your website based on things like a user's past actions, location, and company helps you to get more out of your marketing efforts and connect with a wider array of potential customers. If you're using Marketo for marketing automation, they have a web personalization solution. If you're using another marketing automation system, many of them offer personalization options and there are also some vertical-specific tools which you can read about here.
Hopefully, you found this list helpful and came away with some new ideas to think about as we head into the new year. From all of us at Swiftype and Elastic, we wish you a happy holiday!