Engagement, engagement, engagement
As a media company, you live and die on the level of engagement that your content generates. If people are digging your content, you're happy because your hard work is getting exposure and the advertiser dollars are rolling in. On the other hand, if you don't produce engaging content or your website visitors can't find what they're looking for, people will move on to other, more interesting websites.
The struggle for website visitors is real
Getting people to consistently visit your website is no easy task. First you have to create interesting content and then you have to distribute it, reaching your audience through increasingly competitive channels. To push out new content and drive traffic to your site, it's likely that you're active on social media channels like Facebook, Twitter and LinkedIn. Additionally, you probably use daily or weekly email newsletters to send out content to your reader bases. If you're utilizing other distribution channels and they're working, then more power to you.
Keeping visitors on your site
Once someone is on your website and they have finished consuming the content they originally visited your website for, they will likely take one of the following actions:
Click a link in the nav bar, usually from a dropdown

Click on a recommended article on the side panel or bottom of the page

Go to the search bar and enter exactly what they're looking for (history of Facebook, blockchain, AI, etc.)

Exit your website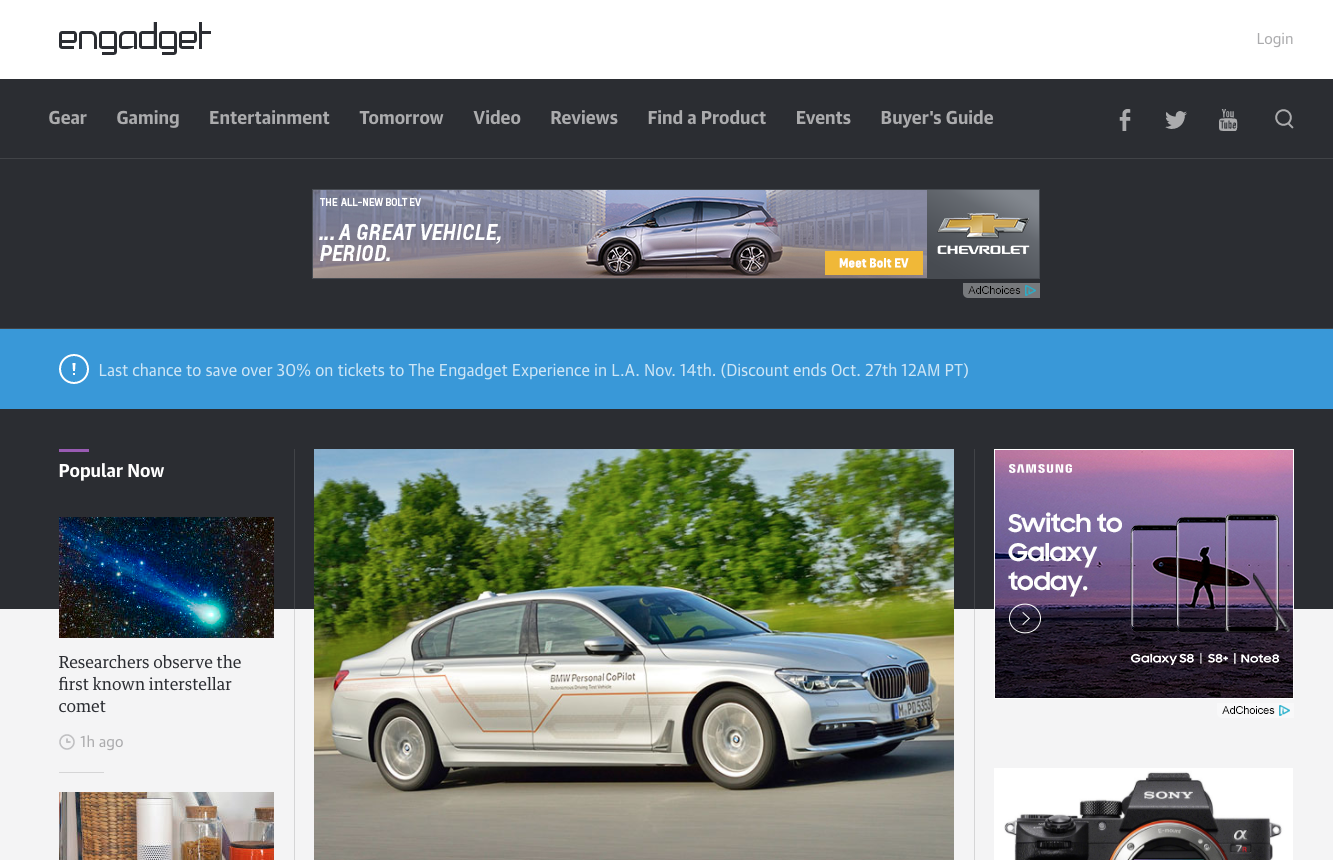 Site search as an engagement tool
When a visitor decides to use the search bar, will they find what they're looking for? It's important that your site search delivers relevant results as visitors who utilize this feature are trusting you to help them find specific information.
Since website visitors who utilize search are relying on you to deliver, great site search is not just a nice-to-have. It's a critical website feature that is utilized by your biggest fans and most engaged users. You don't want to let them down by providing a poor search experience.
Search analytics help you to better understand your audience
In addition to contributing to the user experience of your website, site search is a source of valuable data that informs you of your visitors' interests and whether you have the content they are looking for.
Learn from TechCrunch, Engadget, and DramaFever
Are you looking for a way to boost engagement on your media website? Here are some ways that TechCrunch, Engadget, and DramaFever used search to increase overall page views, increase ad revenue, and better understand their visitors.

TechCrunch
Since its founding in 2005, TechCrunch has become the leading source for technology news. Today the website, which is now owned by Oath, attracts tens of thousands of visitors on a daily basis, with hundreds of new articles being published each week.
How TechCrunch uses Swiftype Site Search:
TechCrunch's search stays up-to-date as new content is indexed automatically

TechCrunch has implemented faceted search so visitors can easily toggle between most relevant and most recent filters for results. As you can see, the Swiftype Search UI can be completely customized to match the design of your website.

TechCrunch uses the powerful Swiftype admin dashboard to customize search results on a query-by-query basis, enabling them to promote content and ensure readers are finding the best content. This feature is particularly helpful in the lead up to TechCrunch's annual Disrupt conference, as it allows the TechCrunch staff to feature promotional content and drive more publicity around the event.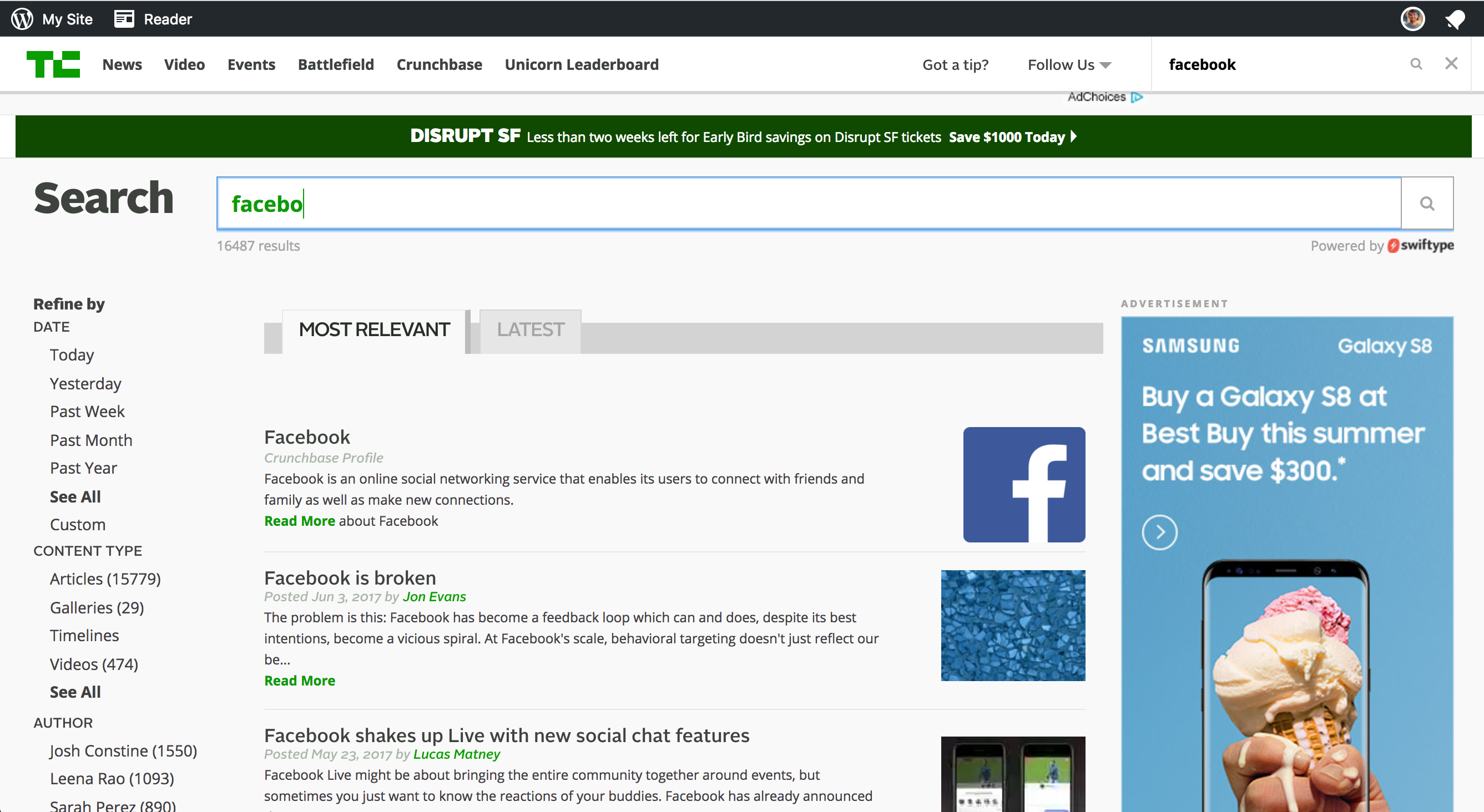 Key Results after implementing Swiftype:
Search volume increased by 30% on the TechCrunch website, causing a noticeable increase in overall website page views, in the first month after launch

TechCrunch saw their search exit rate decrease by nearly 50%, meaning their search results began to match user expectations and dramatically increased conversion rates

Engadget
Since 2004, Engadget has exhaustively covered cutting edge devices and the technology that powers them. More than ten years after their founding, Engadget, which is now owned by Oath, receives around 1M daily visitors and publishes more than 150 articles every week.
"When we launched Swiftype search, our staff was finally able to control results, relevance, and more all through an app. It was great. We couldn't find that anywhere else." – Jose del Corral, Head of Product at Engadget
How Engadget uses Swiftype Site Search:
Engadget is able to crawl all of their content by using Swiftype's web crawler, Swiftbot

Engadget automatically keeps their search results up-to-date and free of duplicates

They use Swiftype's drag-and-drop results ranking feature to customize results and promote content

Each week, the team looks at the top search queries to gain insight about what their readers are interested in, along with the top searches that return no results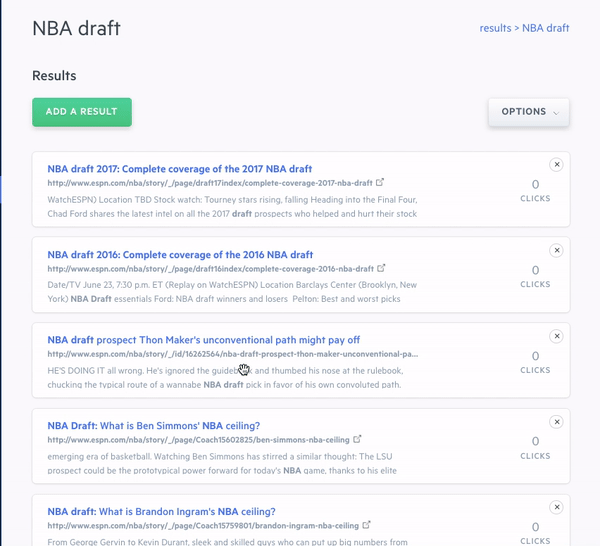 Key Results after implementing Swiftype:
18% increase in pageviews coming from search results

Site wide increase in average time on site

DramaFever
DramaFever is a Warner Brothers-owned online video site for the distribution of international televised content. Their current library is comprised of over 13,000 episodes from 60 content partners across 12 countries.
According to DramaFever's data from NewRelic, Swiftype's API ranks among the fastest that they integrate with.
How DramaFever uses Swiftype Site Search:
To index their content, DramaFever uses the

Swiftype API

DramaFever relies on data points in the Swiftype weekly analytics emails to determine what new media they should add to the site and what media to feature on their home page
Key Results after implementing Swiftype:
Since Swiftype search has built-in mobile functionality, DramaFever was able to increase mobile engagement

According to DramaFever's data from NewRelic, Swiftype's API ranks among the fastest that they integrate with

DramaFever saw a 21% increase in total page views, drastically enhancing their value proposition to advertisers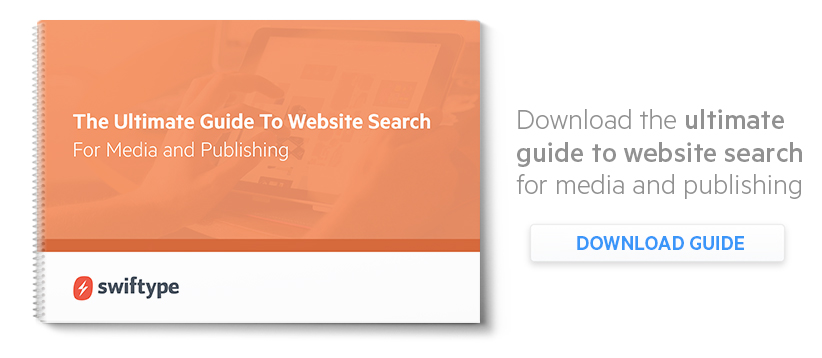 Getting started with Swiftype Site Search
To get started with Swiftype, you just enter your website's address and Swiftype will index your site and create your search engine in real-time. No coding is required, but developers can use the API for extra control. Swiftype can index any amount of content and new content is indexed automatically, so your search is always up-to-date.
A free trial makes trying Swiftype risk free
Want to try out Swiftype Site Search for your website? You can sign up for a free trial here.