Over the past 5 years, there has been a proliferation of high-quality SaaS apps that have made our companies more collaborative and efficient. Apps like Dropbox, Box, Zendesk, Marketo, Salesforce, Asana, GitHub, Jira, Gusto and Trello have changed the way businesses operate – enabling our teams to be more agile and complete projects much faster.
Although these apps have helped our businesses in a big way, they have also created an explosion of data that is spread across many silos. This data fragmentation can cause many organizational issues including frustration within teams, duplication of work and overall inefficiency. In fact, Forrester Research says that employees now spend 30% of their time searching for information, answers, and insights to help them do their work. Fortunately, tech companies (like mine) are working to solve this data fragmentation issue and continue pushing our progress forward in the cloud.
So how are we addressing this issue at Swiftype? We've leveraged our expertise in search to build an AI-powered Enterprise Search solution that unifies your cloud data sources and enables you to search across all your apps from one place – helping you find what you need and get the most out of your valuable data. Here are 6 things that are changing about enterprise search, making it an ideal solution for your company's data fragmentation woes.
1 – There will be much more widespread adoption
Historically, only very large companies deployed enterprise search solutions — partially because only large companies had fragmentation issues, but also because enterprise search solutions were so expensive that they were typically the only companies who could afford it. The recent proliferation of SaaS applications means that companies of all sizes are using more tools to get work done and creating content at an unprecedented pace.
Since companies of all sizes are struggling with data fragmentation, it will soon be common for high-growth start-ups and smaller firms to need a solution for content discovery. As the benefits of modern enterprise search become more known, companies will adopt enterprise search solutions to provide an immediate and lasting solution to their data fragmentation issues.
2 – The surface area of work has changed
The surface area of our daily work has changed — we now access information from desktop computers, web browsers, native mobile applications, and even voice-based interfaces like Amazon Echo and Siri. Search on a mobile phone acts differently from search on a desktop computer or from an interface-free device. Swiftype Enterprise Search is accessible from a web app, mobile app, desktop app and add-ins on platforms like Salesforce, Slack, Confluence, etc.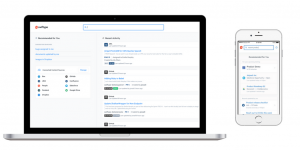 3 – Much shorter time to value
Since a lot of your company's data is already in the cloud, it makes sense for your enterprise search solution to live there too. As you might expect, cloud-based enterprise search solutions are much quicker to set up (less than 1 hour) than legacy solutions. This extremely low barrier to implementation means significantly less time and company resources are necessary to roll out a new enterprise search solution.
Over the next few years, you will see more companies implement enterprise search simply because they can realize a majority of the benefits within a day rather than 6 months.
4 – Shared and private content sources
With legacy enterprise search solutions, admin settings were rigid and could take weeks to change. Modern solutions enable companies to manage their search platform with a robust admin dashboard so they can quickly make changes and give their employees access to the relevant content sources for their role.
For example, your sales and engineering teams use different apps to get their work done (Salesforce vs. GitHub) although there is some crossover with apps like G Suite and Dropbox. Swiftype enables you to easily configure your settings so that every employee at your company can search only the content that is relevant to them.
Additionally, enterprise search solutions now enable individual employees to add content that is private and only relevant for them, like Gmail. Integrating shared and private content sources is one of the major upgrades to enterprise search as it moves to the cloud.
5 – Security and file permissions
Security is clearly a major concern with enterprise software and enterprise search is no exception – enterprise search providers must maintain state of the art security. Swiftype is SOC2 compliant and thousands of companies, including Fortune 500s, trust us with their data.
Additionally, modern enterprise search solutions automatically maintain the correct permissions for files so that employees using the solution will not be able to see results for files that they don't have access to. Maintaining permissions for a data source indexed on an enterprise search solution is not trivial but utilizing technologies like OAuth actually make doing so much easier than in the past.
6 – AI-powered productivity
Finally, enterprise search solutions are taking full advantage of artificial intelligence (AI) and natural language processing (NLP) technologies. Similar to Google Search, enterprise search solutions recognize misspelled words and understand user intent – recommending search queries as you type. Modern enterprise search solutions return relevant results based on calendar events, emails, and user behavior.
By leveraging a company's knowledge graph, enterprise search solutions can proactively surface relevant information while you're working and even when you're away from your desk. For example, Swiftype learns your work habits and sends you relevant files and information ahead of your meetings and presentations.
Swiftype Enterprise Search
Swiftype Enterprise Search makes it easy for employees to search across the various apps they use at work — G Suite, Office 365, Dropbox, Box, Slack, Jira, Github, Zendesk and others — from a single search box. Swiftype integrates seamlessly with your company's current workflows and will boost productivity throughout your organization, from sales to engineering to customer support.
Here's a quick video (1 min) on Swiftype Enterprise Search. Still think it's too good to be true? Sign up for a free trial and see for yourself!