Evernote is a valuable tool that helps keep employee productivity on track. People use Evernote for a variety of reasons, such as:
•    taking notes on a meeting, research or even lunchtime epiphanies
•    capturing audio and video from meetings and presentations
•    writing documents – articles, notes, etc. with colleagues
•    saving business cards digitally
•    and much more!
Most individuals and teams choose Evernote because of its dynamic content storage ability. Collecting meeting notes in any format – text, handwritten, video, and audio form – then being able to access them from any device ensures that ideas or knowledge are never lost.  However, if you have a lot of notebooks set up, it can get confusing to find exactly which note is in which notebook, as you can't search across notebooks.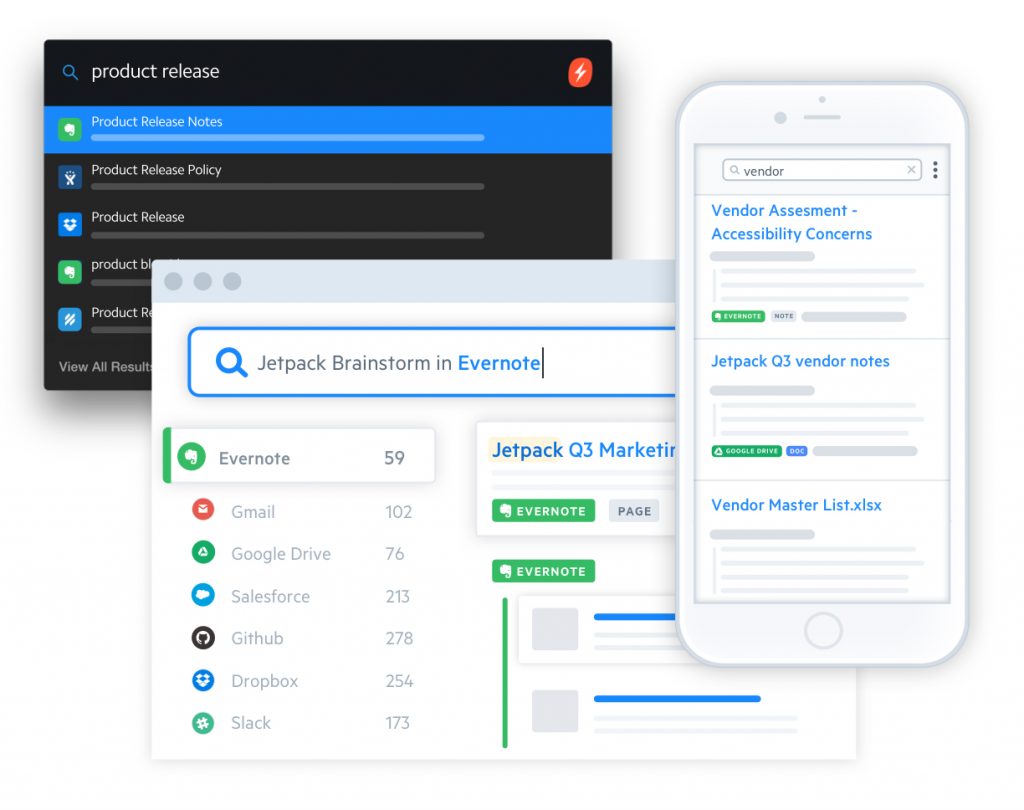 For the 200 million people who use Evernote to keep track of their daily work, with carefully crafted notebooks, collections of web clippings, or creating a digital version of the popular bullet journal, Evernote search just got a whole lot better.  
Swiftype Enterprise Search Meets You Where You Work
At Swiftype, our employees use Evernote quite a bit to keep track of ideas and notes. Given the incredible amount of content created and stored in Evernote, it was an obvious choice to expand and include the Evernote connector on our Enterprise Search platform. The Evernote connector for Swiftype Enterprise Search makes it seamless to find content across multiple cloud applications at once. By connecting Evernote to Swiftype, users can access project notes, ideas, drafts and more from a single search experience, regardless of the notebook it lives in.
The connector makes Evernote content visible and accessible from any supported interface, including our browser extension, mobile app, and macOS app. Swiftype's commitment to meeting people where they work continues with our Evernote connector, allowing users to search across even more data sources without having to leave the application they're already working in.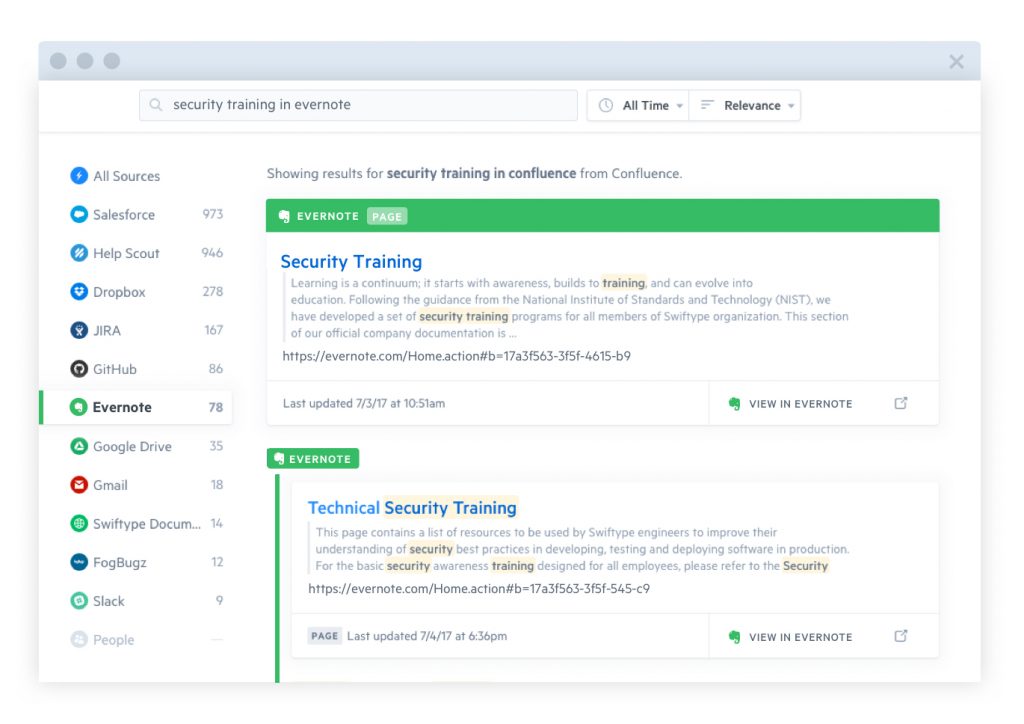 What You Can Expect from Swiftype for Evernote:

All collected ideas in one place.

Part of Evernote's convenience is in that individuals and teams can collect their thoughts and ideas in Evernote no matter where they are or which device they are using. But they also use a plethora of other apps to get their daily work done, like Dropbox for file storage, Salesforce for managing customer relationships, Confluence for documentation, and many more. Swiftype's integrated Enterprise Search Solution helps employees access the Evernote ideas they have stored from any of the applications they work in, ensuring that no knowledge is ever lost.

Improved relevance to find Evernote content.

While Evernote already lets users search over their notebooks, it doesn't do a whole lot of good unless they remember exactly which notebook each idea is stored in. Integrating Evernote with Swiftype lets users enter a query into a single search box and find content from any Evernote notebooks, alongside content in any other connected cloud apps.

Global collaboration across shared notes and notebooks.

Team members using the Evernote connector automatically gain access to any notes that have been shared with them. Swiftype Enterprise Search adopts native permissions from Evernote to give users access to only the content they should be able to see. 
Get Started!
We're excited to welcome Evernote 'to the family' of our Enterprise Search connectors. It's simple to set up. With just a few clicks, your entire library of cloud content is accessible right alongside your Evernote workflow. Visit us to learn more and sign up for a free trial.