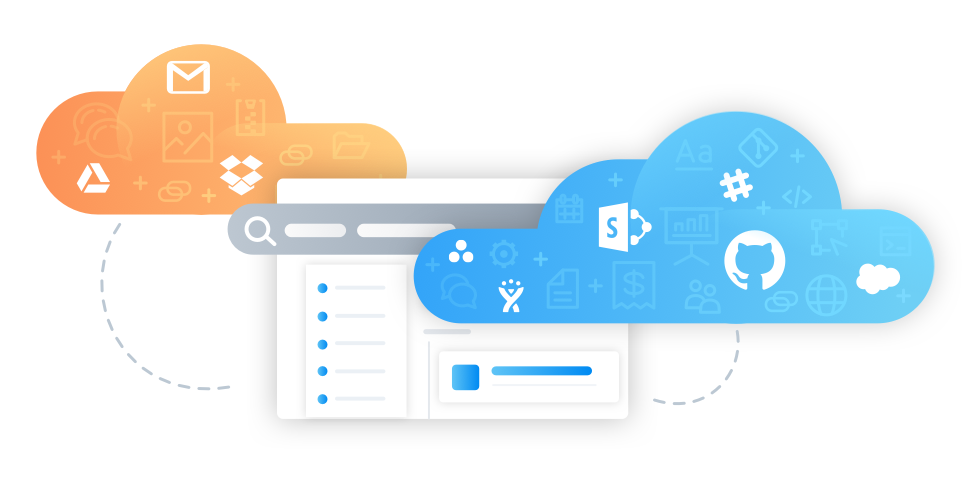 In my last post about how AI-Powered Enterprise Search can make your company more productive, I covered some of the features of our cloud-based enterprise search solution and their implications for companies of all sizes. In this post, I will focus on some important trends in B2B/enterprise software as well as a few technology-related problems that businesses are facing today. As part of my analysis, I will again reference my talk at the Silicon Valley Enterprise Search and Analytics Meetup. After we walk through the following problems and trends, you'll have a better understanding of enterprise search and how it can benefit your company.
1 – Proliferation of high-quality cloud-based apps
Over the past five years, there has been a proliferation of high-quality SaaS apps and productivity tools. Because many of these tools solved real business pain points and were relatively cheap, they received widespread adoption. These apps have greatly improved productivity and collaboration, but have also introduced a data fragmentation problem that is pushing back on that progress—causing frustration within teams, duplication of work, and overall inefficiency.
In my talk I addressed this growing problem:
"So, what we're seeing is a huge spread of specialized cloud-based data sources where you have customer data, productivity data and sources that are individualized to users."
It's likely that your company has been adversely affected by siloed data sources in the cloud. And since, according to Okta, about 50% of apps used by your company are not issued by IT, the fragmentation that you can see at an organizational level is only part of the problem. Fortunately, enterprise search enables you to directly address your organization's data fragmentation problem by unifying your cloud data sources (both company-wide and private), so you can search across all your files from a single platform.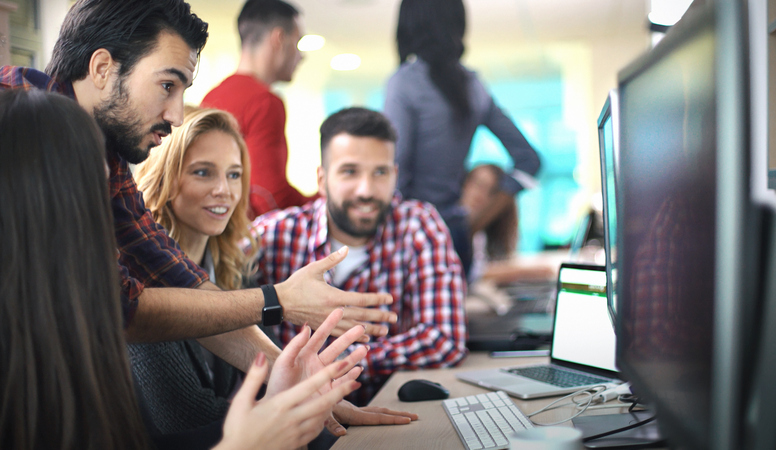 2 – The problem of data fragmentation amplifies across a company
When one employee (Employee A) can't find the information they need to get their work done, this discovery problem will actually not just affect Employee A's productivity. Employee A's logical next course of action is to seek help from another coworker (Employee B). If Employee B can't find the file, then they will go ask another coworker for help (Employee C). So, as you can see, data fragmentation has this amplifying effect across your company. Here are some additional thoughts:
"Just to kind of give you an idea of some of the more pathological cases that we run across, there's the obvious inefficiency of not being able to find a particular thing that you're looking for. So maybe you go looking for a particular document, say it's a contract for a customer. You look for it in Salesforce, but it's not attached to their account or their opportunity. Then you say, "Okay, well, it's probably in Box." And you go look in Box, then you go look in Dropbox, and it's not in the usual folders that you go to there.

This is kind of the point, to me, that makes the problem really amplify. And it's when you go start pinging coworkers. Because it's one thing for the inefficiency to hit one individual person, but it gets really bad when you start asking other people. Because I know the folks in our company, if I go ask them something, they're probably like, "I think I know where that is." And then lo and behold, they probably go repeat all these steps that I just did. They're thinking, "I know where that is, I'm going to go search in Salesforce, and if it's not there I'm going to go search in Dropbox." And really start amplifying this issue across the company."
3 – The hidden costs of poor internal search add up over time
According to Forrester Research, employees spend 30% of their time searching for information, answers and insights to help them do their work. If your company has 100 employees, your cost of searching each year is 62,400 hours which equates to $2,400,000 if you're paying your employees an average of $80k.
"And I think, it's hard to conceptualize, because it's 30 seconds or a minute here or there. But over the course of a week or a year, when you look at a percentage of, say, an employee's salary, and you look at that across an entire organization, it's very substantial. And so it's something that has become a very, very important problem for us to solve."
Implementing a cloud-based enterprise search solution is almost a no-brainer because it's much cheaper than a legacy solution and you can start alleviating your internal search problem immediately. Depending on the size of your company, enterprise search will pay for itself, literally 100+ times over.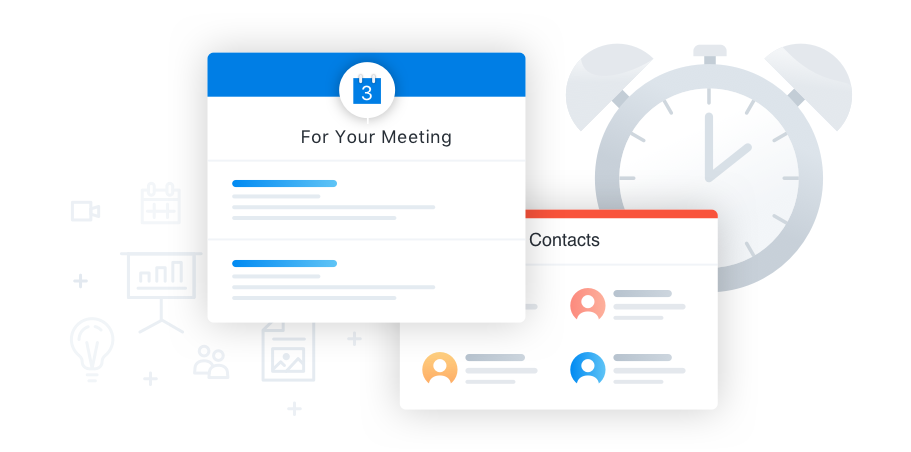 4 – Take advantage of AI-powered productivity
AI has lots of potential use cases for the enterprise – from HR chatbots (Talla) to cybersecurity solutions (SparkCognition, Cylance) to document processing (HyperScience). Similarly, there's opportunity to apply AI in the realm of enterprise search. Swiftype Enterprise Search learns from user behavior and returns results based on calendar events and email conversations.
Additionally, Swiftype proactively surfaces relevant information while you're working and when you're away from your desk. For example, say you have a meeting coming up soon. Swiftype will actually process that you have an upcoming meeting, learn some context around the meeting and send you the documents you need to prepare.
"So we're taking what's on your calendar, what you've been browsing, what other queries you have you done recently, and using that as additional context to the query.  This lets our algorithms better understand what is actually relevant to your search."
5 – Implementation and security concerns
One of the most significant changes that the cloud has brought about for enterprise software is the amount of time it takes to implement new solutions. Because Swiftype Enterprise Search is cloud-based and includes a pre-built connector framework for many of the apps you already use, you can actually begin implementation in a matter of minutes.
As for security, Swiftype is SOC2 compliant and thousands of companies, including many Fortune 500s, trust us with their data. Additionally, when you connect your data sources to Swiftype, we maintain the correct permissions so that your employees will not see files they don't have access to in their Swiftype search experience.
"We think that by focusing on cloud sources, and having purposeful connectors for those cloud sources, we can have a very, very fast time to value. So we do get people set up initially, really within a matter of minutes.

And what I mean by that is, essentially people can sign up for Swiftype, jump into the application, start connecting their sources. And we'll talk a little about how that works. But really, we do lean on the fact that we are integrating with cloud sources. So a lot of the things that exist today, and not only exist today but are leaned on really heavily, like OAuth for authorization flows, is how we build our product. And we built it from that standpoint from the beginning."
See how Swiftype can help your company
Want to learn more about Swiftype Enterprise Search? Visit our website for more information and sign up for a free trial.